Rock Inspired Kids Clothes... Top 10 Rock Band Images Of All Time.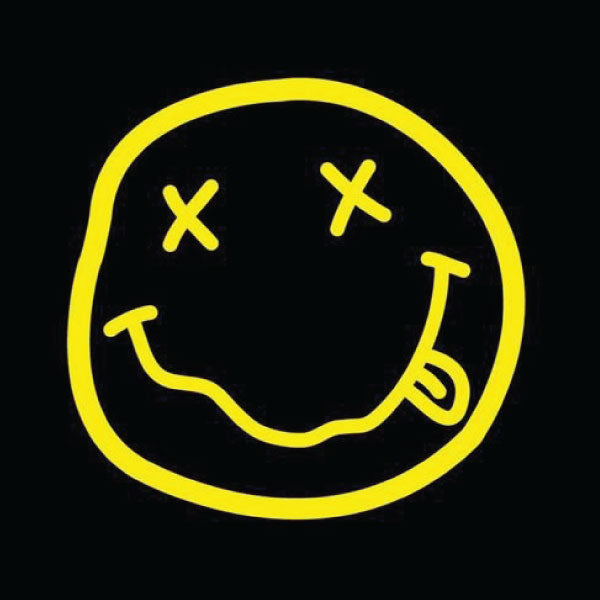 Our Top 10 Rock Band Images Of All Time...
It's great to see rock bands that were loved so much during the 70s, 80s & 90s still being remembered and admired today by younger generations. With a little help from mum and dad the next generations of kids can grow up inspired by some of the greatest rock music that we were fortunate to grow up listening to.

We've put together a list of what we think are the most iconic band images. It's been so difficult to narrow it down to just 10 but here's our top 10 band images that are still as popular today as when they were first created.

Possibly the most iconic and recognisable rock band logo of all time, the Smiley Face Nirvana logo was supposedly drawn by Kurt Cobain himself. Practically everyone in the 90's wore a t-shirt with this infamous logo! The original tee also featured the slogan 'Flower Sniffin, Kitty Pettin, Baby Kissin, Corporate Rock Whores'. This image epitomised 90s grunge. (Product Featured: Nirvana Kids T-Shirt - Smiley Face)
Rolling Stones – 'Tongue and Lips' also known as 'Hot Lips'
The logo was designed by 24 year old student John Pasche. Studying at the London Royal College of Art in 1969, he was commissioned by Mick Jagger to create the Rolling Stones' new logo. John's inspiration came from Mick Jagger himself with his unique mouth and lips. This is purportedly the most successful logo of all time with respect to merchandise sales. (Product Featured: Rolling Stones Kids T-Shirt - Sticky Fingers)
The Ramones logo was designed by Arturo Vega, a New York artist. It is said to be based on the United States Presidential Seal and incorporates the names of the four members of the band: Johnny, Joey, Dee Dee and Tommy. (Product Featured: Ramones Babygrow - Ramones Seal)
Pink Floyd – 'Dark Side Of The Moon'
Created in 1973 designed by Thorgerson and Hipgnosis and drawn by graphic designer & illustrator George Hardie, the design was based on an image in a photography book of a photograph of a prism with a colour beam projected through it. The Dark Side Of The Moon album cover is said to be one of the greatest of all time. (Product Featured: Pink Floyd Babygrow - Dark Side Of The Moon)
Bowie's most iconic image and his most recognised photograph ever taken was created in 1973 by photographer Brian Duffy. The lighting bolt was inspired by a logo that appeared on a rice cooker and the actual bolt in the photograph was applied with lipstick. It appeared on Bowie's classic album Aladdin Sane. (Product Featured: David Bowie Kids T-Shirt - Aladdin Sane)
Created by Atlantic Records art director Bob Defrin and graphic designer Gerard Huerta, the logo was reportedly inspired by a font used in the Gutenberg Bible. It first appeared on the bands fourth album 'Let There Be Rock' in 1977. The Gothic style logo is one of the most iconic rock logos of all time. (Product Featured: AC/DC Kids T-Shirt - I Wanna Rock and Roll)
Originally the members of G'n'R were in separate bands, L.A Guns and the Hollywood Roses. When the two bands joined forces, the Bullet image was created and the band became Guns 'n' Roses. Allegedly the image was created by band member Steven Adler… (Product Featured: Guns 'n' Roses Kids T-Shirt - Appetite For Destruction)
The Misfits logo was influenced by a film poster from the 1940s film series 'Crimson Ghost' and the font was inspired by the movie magazine 'Famous Monsters of Film Land'. The Misfits Skull is one of punk rock's most iconic images. (Product Featured: Misfits Babygrow - Mini Skulls)
Motorhead – 'Snaggletooth ' – 'War Pigs'
Joe Petagno designed this classic logo in 1977. His inspiration came from looking at a variety of Hell's Angels logos and skull imagery. He decided to create a hybrid gorilla-dog-wolf with boar's teeth. Lemy added the chains and spikes and Phil Smee created the lettering. (Product Featured: Motorhead Kids T-Shirt - Motorhead England Artwork)
Created by Derek Riggs, 'Eddie' (Iron Maiden's mascot) first appeared on Iron Maiden's first album 'Iron Maiden' and he has featured on every album ever since. The classic rock image of The Trooper was inspired by The Charge of the Light Brigade at the battle of Balaclava during the Crimean War in 1854 and features 'Eddie' with a flag and sword on the battlefront. (Product Featured: Iron Maiden Kids Hoody - The Trooper)
-------------------
It's a testament to the quality of the artwork and design that people today still instantly recognise these iconic images and want to wear them on t-shirts.
If your little 'Trooper' has an 'Appetite For Destruction' or your little 'Misfit' wants to be mum and dad's mini-me, then check out our officially licensed kids rock band t-shirts and band babygrows.
Long Live Rock 'n' Roll!