Queen and Fleetwood Mac Kids T-Shirts! Gallileo Figaro!!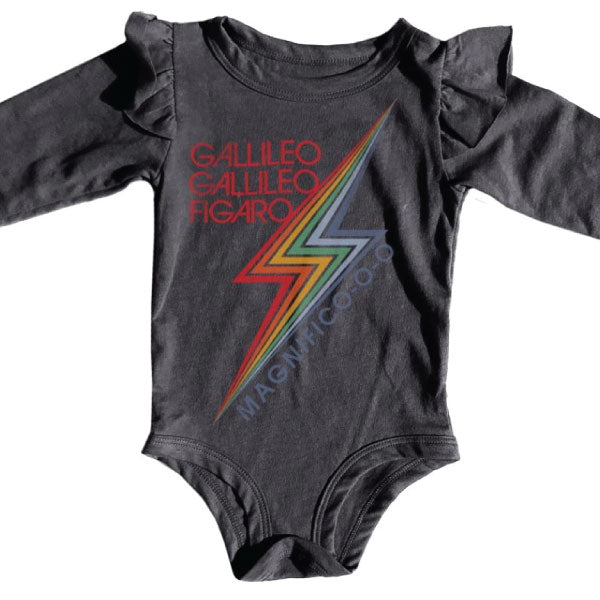 We're really excited over here as for the first time ever we've got some Queen and Fleetwood Mac Kids T-Shirts. 'Magnificoooooo', I hear you cry.
We're huge fans of both Queen and Fleetwood Mac and to finally have some cool kids t-shirts of two of our favourite bands on our shelves is awesome. We've got one of each at the moment but we hope to have more designs in the future. Take a look at them and let us know what you think. We think they're amazing:
Queen Kids T-Shirt - Bohemian Rhapsody
This bran new Queen Kids T-Shirt from Rowdy Sprout features the lyrics 'Gallileo, Gallileo, Figaro' from Queen's classic track 'Bohemian Rhapsody' and is printed on a ridiculously soft fabric for extra comfort. The print on the t-shirt has been intentionally distressed to give it a more authentic, vintage look and feel. Rowdy Sprout clothes may cost that little bit more but the designs and quslity are amazing. We love them!

For all you Queen fans who are a little bit smaller, we've also got a Queen Babygrow:
Queen Babygrow - Bohemian Rhapsody
This Queen Babygrow features the same print as the t-shirt on an equally soft fabric. We think this babygrow is extra cool as it features ruffles at the top of the sleeves. Very Queen!
Fleetwood Mac Kids T-Shirt - Rumours
Behold our first Fleetwood Mac Kids T-Shirt. It features the artwork from the band's classic album, Rumours, and like all Rowdy Sprout clothes, is printed on a super-comfy fabric. It's one of our favourite kids tees at the moment. I just wish we had them in adult sizes!