New Rowdy Sprout Kids T-Shirts and Babygrows hitting the shelves...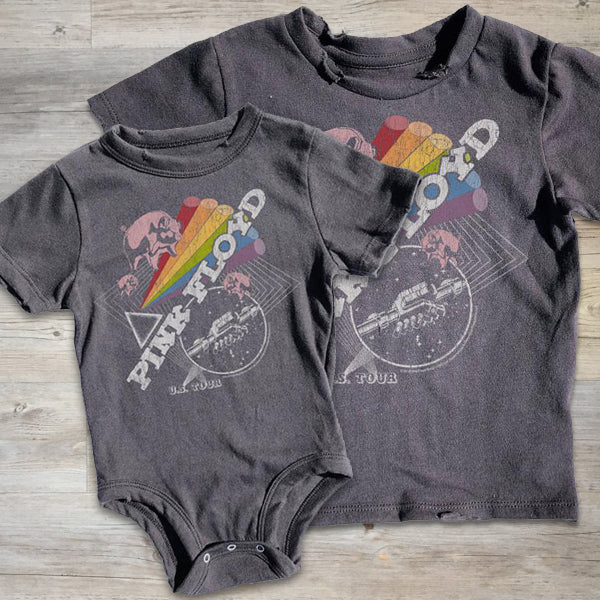 We love Rowdy Sprout at KidVicious... and we've got loads of new Rowdy Sprout Kids Clothes heading our way from the US in the next week or so. There's brand new Pink Floyd, Beastie Boys, Green Day, Led Zepellin,  Smashing Pumpkins and more. I'm particularly excited about the Pumpkins stuff as we're massive fans here. We've currently got Ava Adore on hard rotate in the office ; )
Rowdy Sprout kids clothes are all hand-made in the US. They may cost a bit more but the quality and design is amazing. They're super soft, super comfy and wash really well. All the stuff we sell is 100% officially licensed and you'll be hard-pushed to find it anywhere else in the UK, so it's pretty exclusive.
Take a look at some of the new Rowdy range below : )
Pink Floyd Babygrow - US Tour Artwork
This Pink Floyd Babygrow from Rowdy Sprout features artwork from Pink Floyd's massive US Tour It includes images from 'Dark Side Of The Moon', 'Wish you Were Here' and 'Animals' and is printed on a ridiculously soft fabric. The print on the babygrow has been intentionally distressed to give it a more authentic, vintage look and feel. It's a must for any Floyd fan!
Green Day Kids T-Shirt - When I Come Around
If you're a mini-Dookie fan then this new Green Day Kids T-Shirt will be right up your street. Featuring the Green Day logo and 'When I Come Around' artwork, this green and cream t-shirt is super-soft and super-cool. Like all the Rowdy Sprout range, both the t-shirt and print have been intentionally distressed. We love it!
Led Zeppelin Babygrow - US Tour 1977
We don't often get Led Zeppelin Kids T-Shirts or Babygrows so when we do you have to grab them while they're hot! This brand new Led Zeppelin babygrow from Rowdy Sprout features the artwork for Zeppelin's US Tour of 1977. It's printed on an off white fabric with a cool contrasting green trim.
Smashing Pumpkins Kids T-Shirt
This is definitely one of our favourites. This Smashing Pumpkins Kids T-Shirt by Rowdy Sprout features the logo and artwork from the classic Pumpkins album, 'Mellon Collie and the Infinite Sadness' on a cool blue t-shirt with navy trim. If you're trying to teach your kid 'the way of the Pumpkin', then this is essential attire.
Bruce Springsteen Kids T-Shirt - Darkness On The Edge Of Town
Featuring the artwork from Bruce Springsteen's classic fourth album, 'Darkness on the Edge of Town', this brand new kids t-shirt by Rowdy Sprout is must have for any mini fan of The Boss!
The Clash Babygrow - The Clash Hits Back
This brand new The Clash babygrow from Rowdy Sprout is a must have bit of kit for any mini-Punk. It features the classic 'Clash' logo on the front and the artwork from the band's greatest hits album - The Clash Hits Back - on the back.
Beastie Boys Kids T-Shirt - Check Your Head
'So What'cha, What'cha, What'cha Want?' If your a Beastie's fan then check out this new Beastie Boys kids tee from Rowdy Sprout featuring the album artwork from their classic album Check Your Head.
David Bowie Babygrow - Aladdin Sane Lightning
If you're like me and you love Bowie then you're bound to love this new David Bowie Babygrow by Rowdy Sprout. It's super-soft and features the classic Bowie lightning bolt on the front along with the Bowie logo on the back. It rocks!!