Check out our great review on BelleduBrighton.co.uk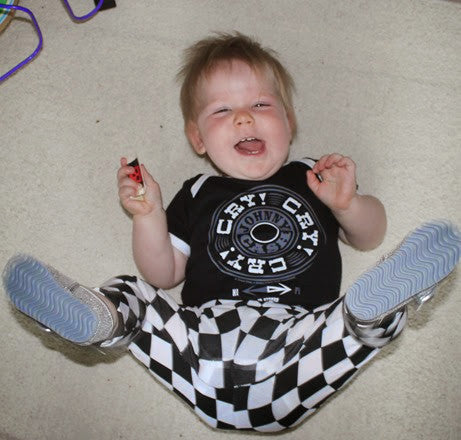 Have a read of our review on Belledubrighton.co.uk - one of the UK's coolest lifestyle and baby bloggers. Here is is:
What the baby wore: Kid Vicious
You can get cute baby clothes almost anywhere, ruffles, bows, adorable little animals… it's all sweet but when you want something edgier there is not much choice. When I came across Kid Vicious I got excited, baby and kids cloths with attitude! We're talking slogans, band logos and punk rock baby bibs! I am over the moon to share with you all a competition to win an item of their choice from the Kid Vicious website. Selling kids clothes from babies right up to age 13 there is a huge variety of choice, dresses, shoes, tops and hoodies!
Athena has been rocking out in her two new baby-grows, Johnny Cash is in my top 5 singers (both Sam and I like to listen to him in the car) so the 'cry, cry, cry' design was perfect! I'm happy that she doesn't just cry cry cry very often, she's such a contented baby  (phew!) but it's very apt for a baby grow nonetheless! I paired it with some blank and white leggings from H&M and some super sparkly shoes from M&S and I think she looked awesome!
The second baby-grow is a classic Ramones print, grey with a red trim. She (well, who are we kidding, I) styled this with a silver blazer, shorts and red heart print tights and if I do say so myself, she was the most stylish baby in the library at Rhyme Time last week! She got her own library card this week too and the librarian dude who issued it even commented on her top! A general poll of people who I asked puts 'I wanna be sedated' as favourite Ramones track, I agree!
Both items are made of super soft cotton and the contrasting trims make them super durable as they're reinforced at the cuffs etc so will last longer. They also come up on the large side compared to super market sizing for example, which is perfect for us a cloth nappy users! They have both been washed now with no damage to the design and no bobbling either! Nothing bad to say about them at all in fact! The website is easy to use, navigation is simple, the pictures are clear and you can pay via paypal, always a bonus!
Thanks BelleduBrighton ; )