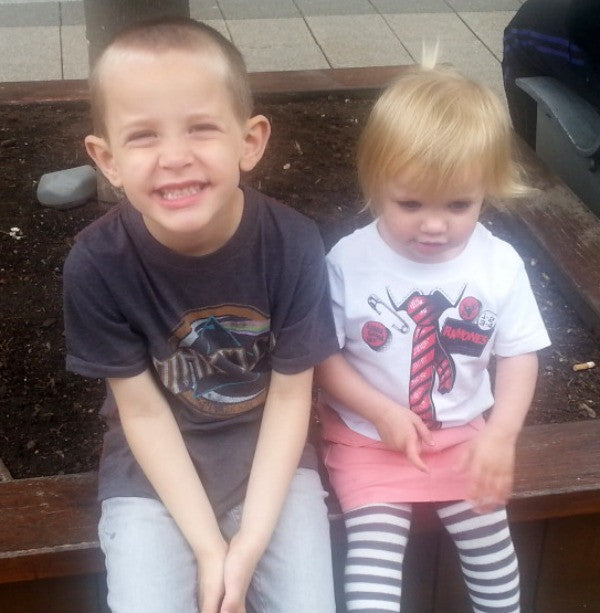 We've been a bit spoilt of late receiving great reviews from some of the most popular lifestyle and parenting bloggers around. Here's another cool review from mummyoftwo.com:

A short while ago the Little A's were sent some great new t-shirts from the range at KidVicious.
Who are Kidvicious?
KidVicious are an online store selling alternative baby and children's clothing.  They sell a wide range of punky rock clothing from baby gros to t-shirts, dresses to pyjamas.  They cater for babies right up to teenagers.
Being big music fans the clothes really stood out for us as being that something different and unique to the clothes you can buy on the high street. 
As well as all of the music themed clothing, KidVicious also sell a lot of Stardust clothing.  I used to sell this from home when Little Mr A was little and loved it!  It is very alternative and great quality.
The t-shirts
Little Miss A was sent the Ramones Kids T-Shirt – 'All Dressed Up', a white short sleve t-shirt with print featuring a button-up collar, skinny tie, Ramones pins and a Ramones patch.  The t-shirt is made from 100% cotton and can be tumble dried.
Little Mr A was sent the Pink Floyd Kids T-Shirt – 'On The Run' featuring artwork from Pink Floyd's 1973 album.  The print on the t-shirt has been deliberately distressed for that vintage look.  This t-shirt is also made from 100% cotton.
What did we think?
The t-shirts arrived quickly and I was really impressed with both the quality and look of them.
They fit the Little A's perfectly and look great on!
They have both been washed a couple of times now and the print has not faded at all and the t-shirts have not lost their shape which I find can happen with cheaper t-shirts.
The clothes are definitely the sort of thing we would buy for the Little A's to make them stand out from the crowd and they are also the type of thing we would buy as gifts for other children.
Although more expensive than the clothing you can buy on the high street, I think they are worth that bit extra for the quality and the fact that they are so different.
Overall we are thrilled with the Little A's new t-shirts – I just wish they did adult sizes too!